The 3 Best YouTube Advertising Formats in 2020
Videos are one of the most popular types of online content. Other popular content formats include texts, audios, and images. The domain on which the content hosts is important when it needs exposure.

According to statistics, YouTube ranks second when looking at monthly visits. It records an estimate of 24.3 billion visits in a month. But when it comes to the visit duration, YouTube ranks first. People spend approximately 21 minutes on YouTube. But they only spend 10 to 11 minutes on Google and Facebook respectively.
Why Invest in YouTube Ads?
As mentioned previously, YouTube drives in a lot of traffic. For digital marketers, it is a goldmine of leads. Like any other platform, YouTube supports different ad specifications. To maximize lead generation, we recommend using professional services like Viboom. Getting experts to help you create marketing campaigns is essential. They know what's trending and how to make the most out of campaigns. All your questions regarding their services are already answered here. However, if you have any other questions, it is very easy to contact them.

If you don't already have a YouTube campaign, you're missing out.
3 Types of YouTube Ads
Since you're here, we're assuming you want to learn about the different YouTube ad types. Firstly, there are six of them. To understand better we've distributed them into three groups. Let's get started.
1. TrueView Ads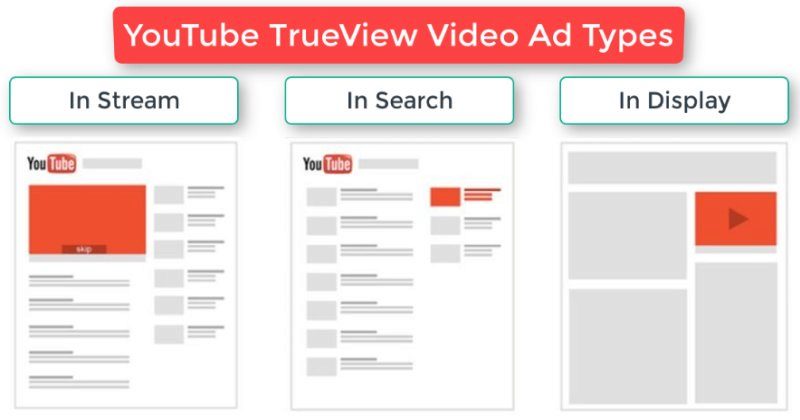 One of the most popular and effective YouTube advertising formats are TrueView ads. You pay a small amount to get featured. What makes a TrueView ad different from other types of YouTube ads is its safety. Here, the advertiser is not charged if the viewer skips the ad.

Consider this:

A person watching a YouTube video gets an advertisement. They skip it within five seconds once they know they aren't interested. In some cases, this would still cost the advertiser. But with TrueView ads, you only pay for the ad when people watch it.

This is beneficial for both parties.

- The advertiser saves money on skipped ads.
- The viewer gets an opportunity to skip irrelevant advertisements.

Now let's see the different types of TrueView ads.
TrueView In-Stream Ads

You see these ads before, in between, or at the end of a YouTube video. They are skippable after five seconds. YouTube charges the advertiser in two scenarios:

- The user watched the advertisement for more than 30 seconds
- The user watched the whole video (if less than 30 seconds).
TrueView Discovery Ads

A TrueView discovery ad contains three components:

• A header
• A description
• A thumbnail

You can find a discovery ad on the YouTube homepage, search pages, and the watch page. YouTube charges the advertiser only when a user clicks on the ad.
TrueView for Reach

Such advertisements are generally found before, after, or in the middle of a YouTube video. The user gets an option to skip the ad after five seconds. The maximum video length, in this case, is 20 seconds. This is the major difference between a TrueView for reach ad and an in-stream ad.
2. Non-Skippable Ads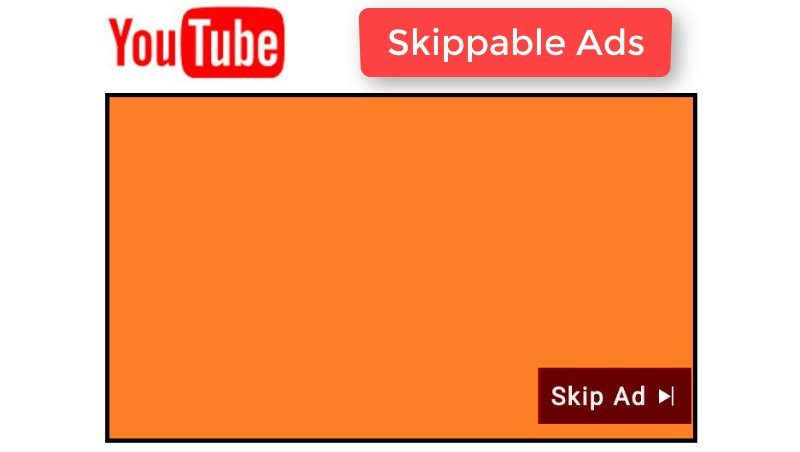 The infamous Non-Skippable Ads are perhaps one of the most annoying YouTube Ad types. Previously, they lasted about 30 seconds. However, to improve the viewing experience YouTube shortened them. Now a non-skippable ad lasts only 15 to 20 seconds (depending on the geolocation).

The bad news is they still annoy many YouTube users. The good news is they are a surefire way to get the users to watch your ad. This allows them to receive the message. People are getting their heads around these ads now, which is a good sign.

Non-skippable ads are also divided into two types:

• Pre-Roll YouTube Ads
These are advertisements that a user must view to play the requested video. They are always placed at the beginning of videos. The maximum duration of pre-roll ads is 20 seconds. The user cannot skip this video to jump onto the main video.
• Mid-Roll YouTube Ads

The mid-rolls YouTube ads format inserts a non-skippable ad between a video. To continue watching the video a user has no choice but to watch the ad.
3. Bumper Ads

The final type of YouTube ad is the bumper ad. The user cannot skip it. So, it is a non-skippable ad but there is one key difference. These ads last only six seconds.

Bumper ads are the least annoying type of YouTube advertisements. Since they last for six seconds, the user is more likely to watch the complete ad. Non-skippable ads can drive the viewer away if they are not interested. Nobody likes waiting 15 to 30 seconds to watch their video. Bumper ads are a great way to make the users watch your ad.

They can run as standalone campaigns. But pairing them with TrueView ads maximizes their ROI. In a study, Google found that bumper ads can lift brand awareness by 9%.

YouTube plays bumper ads before a video starts. You can submit them in any YouTube acceptable format. These advertisements are visible on any device–desktop or mobile.
Which Advertising Format to Choose
All the six types of ads contribute in a couple of ways to your marketing campaign. There is no best advertising format that you can use for all your campaigns. Keep the goal of your ad in mind and pick one of the formats given above.

Want to deliver the message to your target audience?

Do it with bells on. Launch a non-skippable ad campaign. If you choose a bumper advertising campaign, pair it with a TrueView advertisement. This combination works wonders in increasing brand awareness.

YouTube works fast to serve the advertisers and users in the best way possible. They keep updating their terms. This helps them reach the perfect balance between user and advertiser satisfaction.

Are you still feeling confused? Don't be.
We assure you that a YouTube advertising campaign is worth every penny.

Factors to Consider

When launching a YouTube campaign, remember these three things.

- Set achievable goals.
- Create an advertisement that captivates users. Make it appealing.
- Target the right audience for your ads.

With these three simple tips, you can pick a format appropriate for your campaign. A smart decision is to launch the campaign on channels where your target audience is.
The Bottom Line
Launching a successful YouTube ad campaign is a difficult task if you don't know what to do. But after reading this simple article, you're all set to get the best ROI from it.

Remember the different types of YouTube ads. Divert your funds to support the best campaigns that work in sync with your products.

• TrueView Ads
- In-stream Ads
- Discovery Ads
- TrueView for Reach
• Non-Skippable Ads
- Pre-Roll Ads
- Mid-Roll Ads
• Bumper Ads

With bumper advertisements, increase effectiveness by combining them with other types of ads. Use the six seconds to captivate the user. Then seal the deal with a detailed TrueView or non-skippable advertisement.

Follow all the tips given above and you'll watch the YouTube ad generate amazing results.