YouTube is the most popular video-sharing platform on the web. Every minute, people upload around 500-hours of video, leading to 30,000-hours new content every hour. Online marketers and brands have cashed in on this huge video appetite of consumers and use YouTube to promote their products and services. Needless to say, any person would want their videos to get popular and receive a huge number of likes. But how do you determine popularity?

If you are like most people, you would say a video is popular if it receives more views and likes than others. But is that the reality? Do we always need to look at views and likes to determine popularity?

Looking at views and likes can help you gauge the popularity of a video, but that's only one part of the equation. We are missing out on a very crucial aspect of publicity - the negative publicity.

Negative publicity doesn't always mean bad publicity. You must have heard the quote that no publicity is bad publicity unless it's an obituary! In reality, various small brands and companies have used negative publicity to make a mark and get known to people. And the same is also true for YouTube.

Popular videos on doesn't always mean people like it. Sometimes, the most hated YouTube video also ends up being popular. That means a YouTube video with most dislikes can also be called popular. Certainly, the most hated videos on YouTube also get a huge number of views, and that proves their popularity.

Now that makes us curious - which are the YouTube videos with most dislikes? Which ones are the most hated YouTube videos?
Today, we are going to quench your curiosity and reveal the top disliked YouTube videos. You may be surprised to find many viral videos in the list. It's true! Most viral videos come with a lot of YouTube dislikes. A video that you may have watched endless times may be the most disliked video on YouTube 2019!

We suggest you brace up and get yourself ready for the top 10 most disliked videos on YouTube of 2019. Our list will start with the least disliked videos and gradually climb the ladders to expose the most dislike YouTube videos.
Here's the list without further ado!
10. Cortando O Botão Do YouTube › – Aruan Felix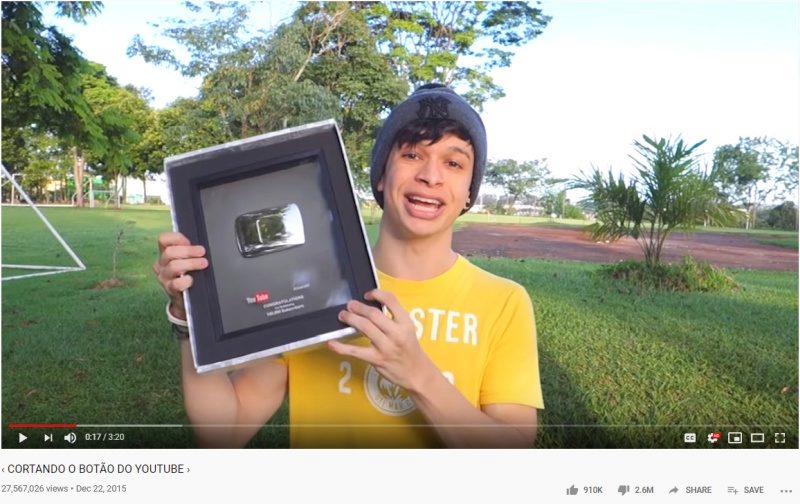 Link: https://www.youtube.com/watch?v=RZEb_utxH4s
Dislikes: 2.6 million

Getting the silver Play button award for 100,000 subscribers is sure a proud moment for any YouTuber. You are bound to go mad in happiness and do unimaginable things. But breaking the same award that you got from YouTube?

Well, this video is about that! A YouTuber breaks and destroys a silver Play button award from YouTube and speaks in Portuguese. There's nothing more to say other than the act attracted so many dislikes and only 910K likes.
9. Bibi H – How it is ( wap bap … ) – BibisBeautyPalace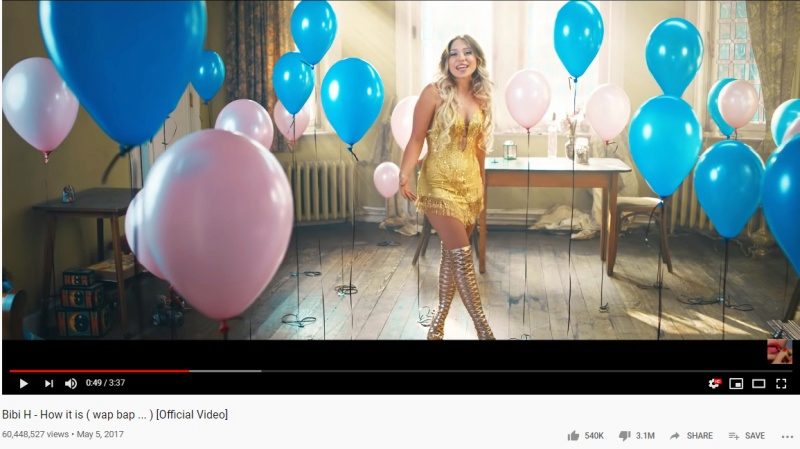 Link: https://www.youtube.com/watch?v=4gSOMba1UdM
Dislikes: 3.1 million

What's the most disliked video on YouTube?

This song by Bibi H certainly claims the stake when it comes to the most dislike videos on YouTube. It's got 3.1 million dislikes, and only 540K likes. But that doesn't mean the video is boring!

On the contrary, there's too much happening that it's difficult to keep track. On top of that, there are random scenes like a bathtub filled with black balls. What do you make of that?

No wonder the video got a place in the dislike list on YouTube.
8. Friday – Rebecca Black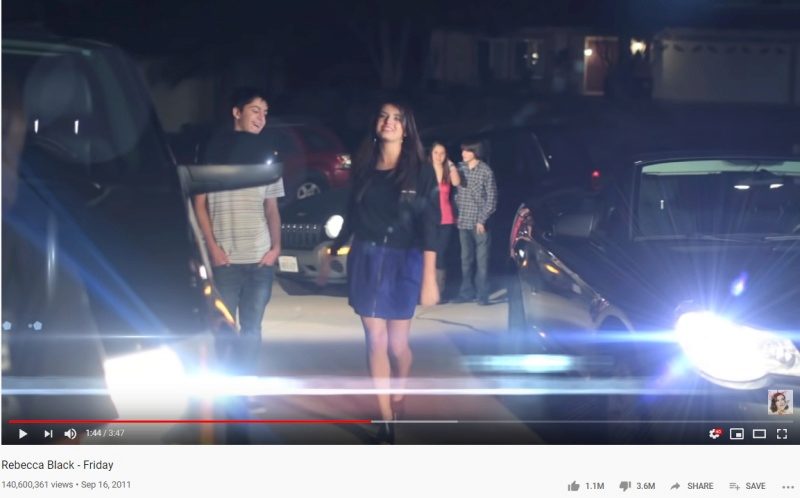 Link: https://www.youtube.com/watch?v=kfVsfOSbJY0
Dislikes: 3.6 million

This video may not have the most dislikes on YouTube, but surely it's one of the most disliked ones! Rebecca Black made the mistake of thinking people were interested in her daily routine, especially Friday! So when she sings out how she wakes up at 7 and spends her Friday, viewers made a queue to press the dislike button!

The lyrics are super boring even if you can't disagree with them - certainly Saturday comes after Friday, and Sunday after Saturday. But do we really need to hear this in a song?!
7. Official Call of Duty: Infinite Warfare Reveal Trailer – Call of Duty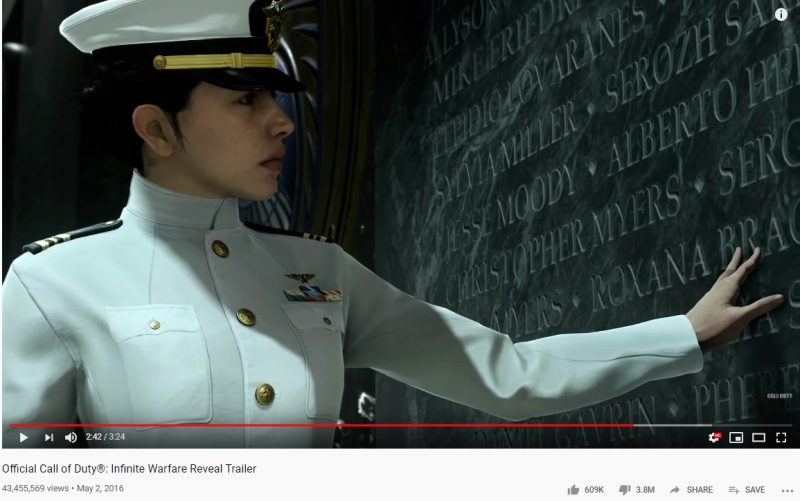 Link: https://www.youtube.com/watch?v=EeF3UTkCoxY
Dislikes: 3.8 million

What could be wrong about a game trailer that attracts close to 4 million dislikes?

Turns out, most people expected the Call of Duty: Infinite Warfare to be a bad game. So people started pressing the dislike button and made the trailer into the most unliked video on YouTube in gaming.

Over time, people realized the game wasn't so bad. Many people also came back to the comments section to leave their opinions even in 2019 saying they were too harsh!
6. Despacito – Luis Fonsi featuring Daddy Yankee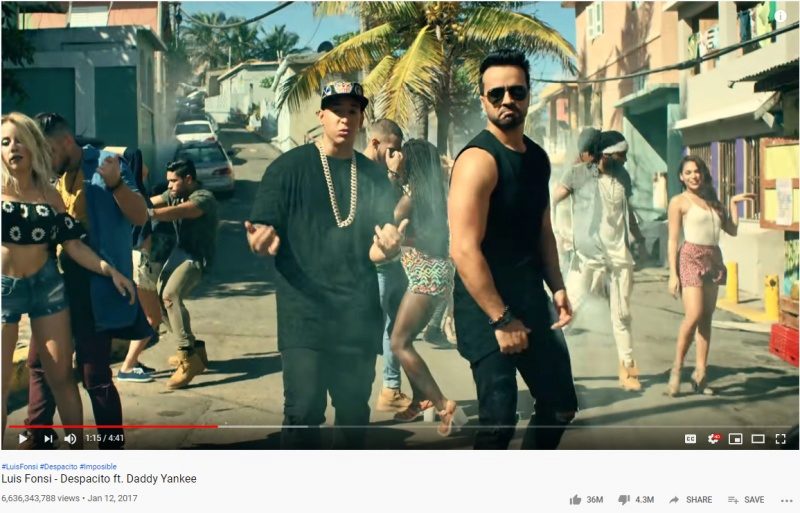 Link: https://www.youtube.com/watch?v=kJQP7kiw5Fk
Dislikes: 4.3 million

It's strange that Despacito has found a place in YouTube's most disliked videos. The song is quite popular and has 36 million likes and over 6 billion views. So, how did it end up being the YouTube most disliked video?

Here are some clues to help you out-

● Most people didn't understand the language
● They didn't like the dance moves
● The song was "despacito" or "too slow for them

But if you ask us, people mostly got tired of listening to it over and over again!
5. Can this video get 1 million dislikes? – PewDiePie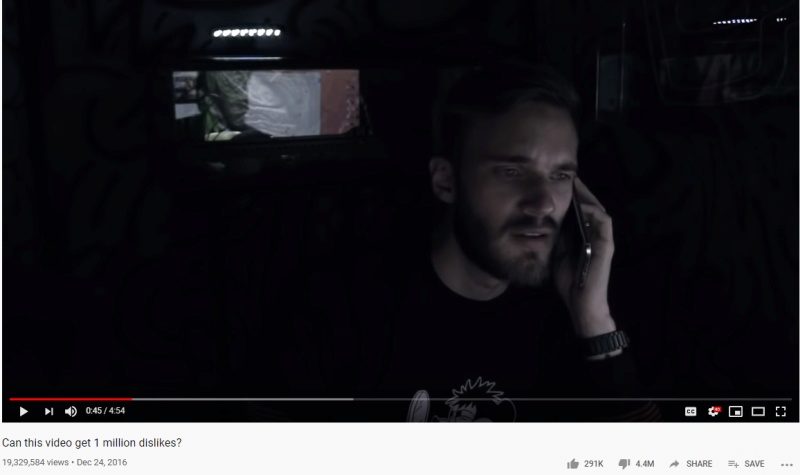 Link: https://www.youtube.com/watch?v=wx9Jv5uxfac
Dislikes: 4.4 million

Why do people dislike YouTube videos?

Well, if you are a famous YouTuber, you can ask your subscribers to do anything- like in this video. The creator PewDiePie asked his subscribers to give 1 million dislikes when he found out dislikes are the key to power on YouTube!

The video is really great, and PewDiePie isn't certainly among the hated YouTubers. The video is just an experiment that proves your subscribers are ready to listen to you. But will they be ready to join an army if you ask them?
4. It's Everyday Bro – Jake Paul featuring Team 10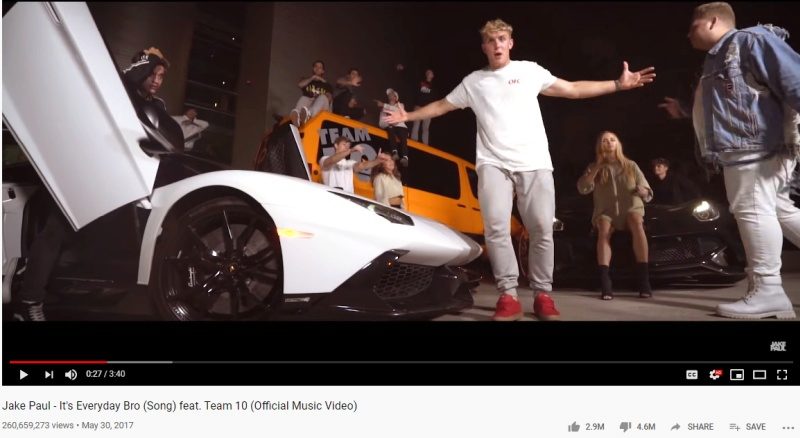 Link: https://www.youtube.com/watch?v=hSlb1ezRqfA
Dislikes: 4.6 million

Jake Paul is not a bad rapper, but everything about this video seems to be too bad!

Jake starts rapping about his "everyday lifestyle," but if you ask us, it's not every day a video gets over 4 million dislikes! That certainly makes it one of the worst videos on YouTube!

Jake must have thought his video would be a rave with cool chicks, Lamborghinis, and Rolex watches. But boy, he was so wrong!

Take a look at the video, and we are sure- you are going to hit the dislike button! Maybe you will also say Jake is one of the most hated YouTubers!
3. Baby Shark Dance – Pinkfong! Kids' Songs & Stories
Link: https://www.youtube.com/watch?v=XqZsoesa55w
Dislikes: 5.5 million

Well, kids really like this Shark song- maybe that's why this video got 13 million likes. But where did the 5 million dislikes come from? How did a cute baby video become most hated video on YouTube?

We can only guess, and the best guess points us to disgruntled parents! It's those parents who got too tired of the "Daddy Shark do..do...do..do.." song and decided to show their common dislikes.

We doubt anybody will find the video boring with cute kids and cool animations.
2. Baby – Justin Bieber featuring Ludacris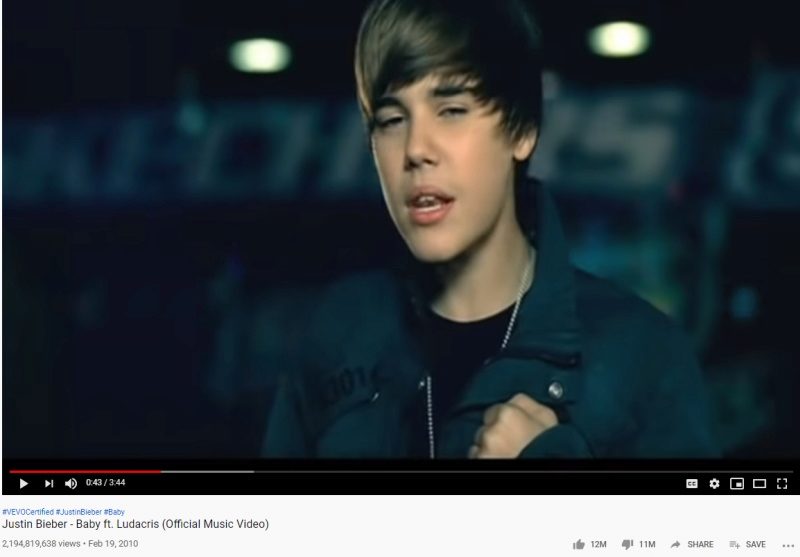 Link: https://www.youtube.com/watch?v=kffacxfA7G4
Dislikes: 11 million

Love it or hate it, Justin Bieber is popular. Some people die by his songs, while others start running the moment they hear, "Baby...baby!"
This video from 2010 is a weird video as you can't say people like it or hate it! It has got 11 million YouTube dislikes, but also has 12 million likes. So is it YouTube's most disliked video?

The truth is, we really can't say. Even critics are wondering if they should put the finger on like or dislike! What are your thoughts on this? Is it one of the most hated songs on YouTube?
1. YouTube Rewind 2018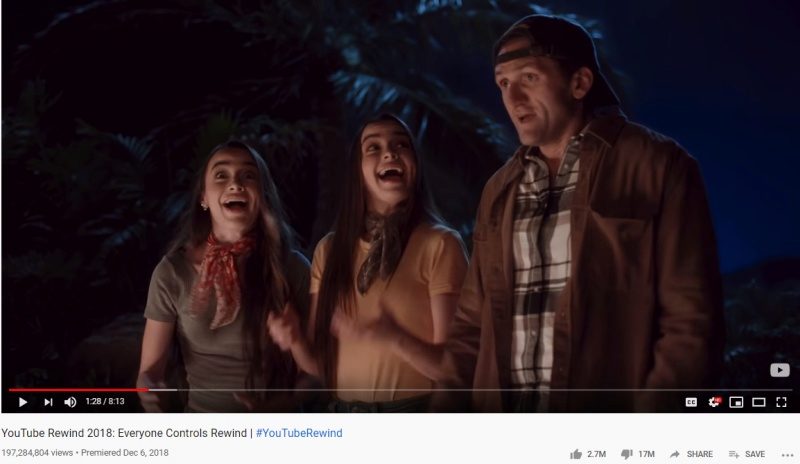 Link: https://youtu.be/YbJOTdZBX1g
Dislikes: 17 million

Who would have thought a video with Will Smith would end up becoming the worst video on YouTube! Certainly, Rewind 2018 didn't impress viewers even though it's full of special effects!

For starters, the video is way too long. Who has 8-minutes to rewind 2018 when you just want to party your way into 2019! Plus, the video lacks coherence and makes jumpy transitions all the while! Looks like the editor wasn't really happy with his pay!
Interestingly, the video was made by YouTube itself. We don't think they never expected it to be the top disliked video on YouTube!
Wrapping Up
So what did you think of our list of most disliked YouTube videos? Did you find your favorite video in the list? We certainly had some of our liked videos in the list of most disliked videos on YouTube!

As you have seen, some videos are disliked for specific reasons. Like the video where the YouTuber asked his subscribers to dislike the video. But for the rest, the problem lies with promotion and not finding the right audience.

If you are a YouTuber, you must be looking to get a high number of views and likes on your videos. That's what all of us really want, isn't it?
We want our videos to reach more people for more exposure. We spend time and put effort into creating the perfect video so that people are attracted to it and find the video appealing. Yet, even after doing everything, your video doesn't get the expected views or likes! What could have gone wrong?

The truth is, nothing might have gone wrong. Your video could be flawless and suitable for attracting audience and garnering likes. But with 500-hours of video being uploaded every minute, your video will struggle to show up to other people. Most probably, it will be lost under thousands of other videos that fight for popularity on the same platform.
This is where Viboom comes in!
Viboom is a smart YouTube assistant that helps your videos get discovered. You can promote your YouTube videos and channels through the Viboom network and get genuine views to make your videos go viral. The process is really easy and can be done in a few simple steps-

Choose video URL and promotion goals (number of views, target country, and so on)

Viboom will then promote the video on countless sites on its network (You can keep track of views and likes from your account)

Your video gets the desired number of views and becomes popular

Wasn't that super easy? Promoting your videos through Viboom is cost-effective and helps you reach a broader audience. All views are real and promoted meeting the rules of YouTube. You don't have to fear about any black hat techniques or your account getting suspended.
So, if you want more views and subscribers authentically, Viboom fits the bill perfectly! Working with Viboom also ensures your video doesn't end up YouTube's most disliked videos list like the one you saw above!