5 Best YouTube Alternate Video Sharing Sites to Upload Your Videos
Is YouTube always the best place to upload videos?
YouTube is the second-largest search engine after Google and has 2 billion users who log in every month. However, YouTube may not always be the best place to host your videos. The video-sharing platform has a few cons that might make the platform unsuitable for some types of videos.

Many marketers and video producers use other video hosting sites like YouTube to upload videos. Today, we are going to give you an idea of why people may want to consider alternative YouTube sites. Then we will discuss the top video platforms like YouTube where you can upload videos for free like YouTube.

So let's get on with our discussion.
Why Do You May Want to Consider Best Alternatives to YouTube?
As we said earlier, YouTube may not be the best place to upload videos based on your intention. Let's check out a few reasons why it is so-
Less Control
YouTube gives brands less control over their videos. The platform may choose to play related videos that might lead your viewers to your competitors. The "Autoplay" feature also serves the same purpose and can lead your traffic from your videos to other sources. This is why many brands choose to go for video sites other than YouTube.
Huge Competition
Every minute, people upload more than 500-hours of videos on YouTube. You can spend a whole lifetime and still be unable to finish watching all the videos on the platform. The tough competition and the fight for getting viewers leads many people to YouTube substitute platforms.
Not Very Brand-Friendly
YouTube doesn't give you the option of customizing your player or how your video pages look. This makes branding challenging, and many people opt for other video sites.
Negative Comments
The comments section of videos on YouTube is not always the best place to be. People leave all sorts of negative comments, use abusive language, and troll others. You may switch off the comments, but that robs the opportunity to engage your audience through healthy conversations.

It's a big reason creators choose other video platforms besides YouTube.
Clutter
Your videos can get lost in the clutter of related videos, playlists, and other elements on YouTube. This may ruin the whole point of making your video. So a lot of brands go for other video sites like YouTube.

Here is a quick glimpse of the pros and cons of YouTube-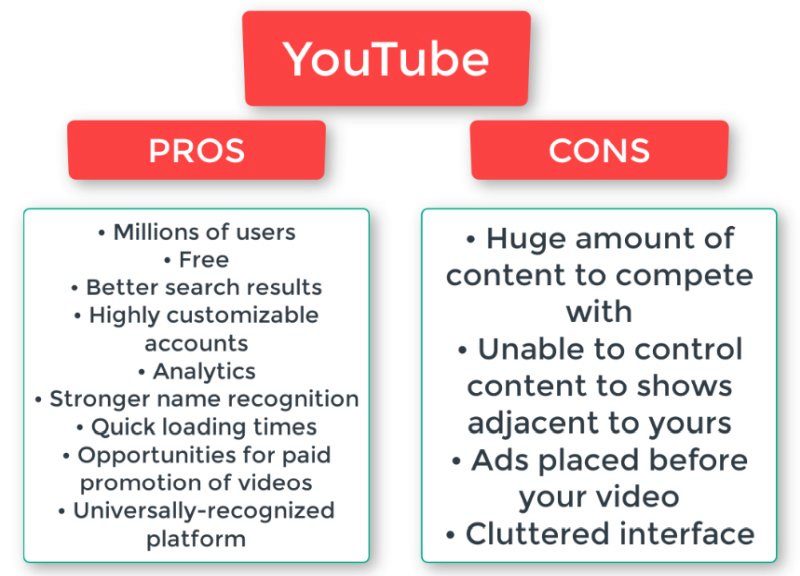 Now, we will check out the best alternatives to YouTube where you can upload your videos and attract viewers.
1. A Top YouTube Alternate Choice: Vimeo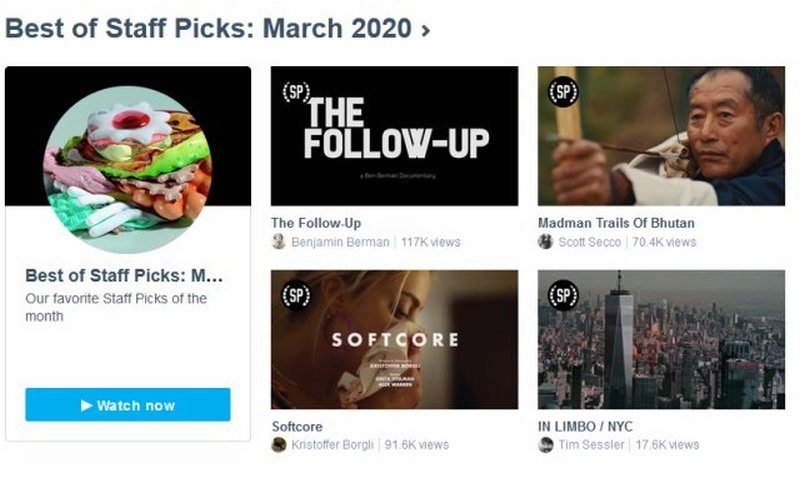 Vimeo is one of the best alternatives to YouTube for creators. The platform calls itself a video-sharing platform for professionals and provides all tools required to host, share, and stream your videos. Vimeo is based in New York and slowly gathered popularity after its launch in 2004.

Vimeo can be considered among the best YouTube alternatives for many reasons-
Ad Free
Yes, you have heard it right! Vimeo is completely ad-free and doesn't frustrate your audience with constant interruptions. This is one of the main reasons people choose Vimeo over YouTube.
Cool Tools
The video hosting platform gives creators a range of tools to edit their videos easily. You can add text, effects, transitions, and share your videos with your team.
Ideal for Branding
You can customize the video player and other aspects to reflect your branding. This is not possible on YouTube.
Great Video Quality
Vimeo doesn't compress your videos and uploads them in the original formats.

Here's a quick comparison of YouTube and Vimeo-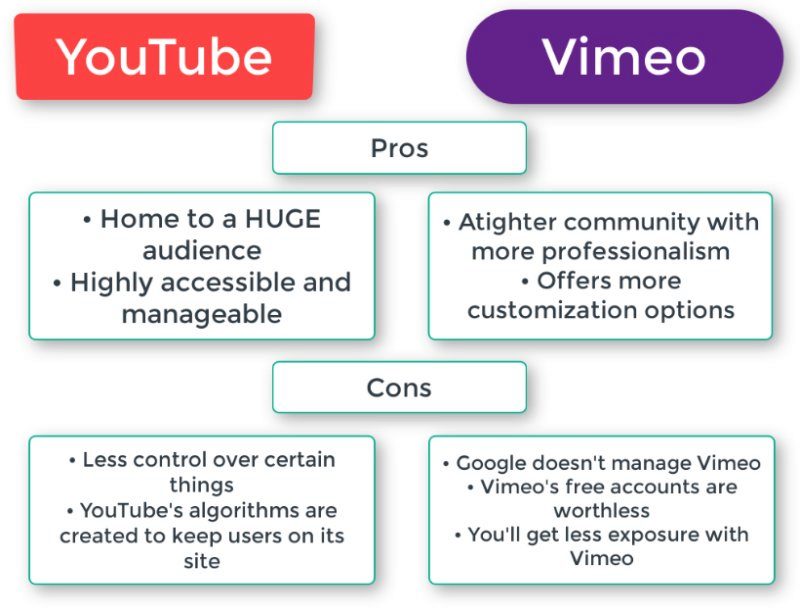 2. Other Video Sites Like YouTube: Metacafe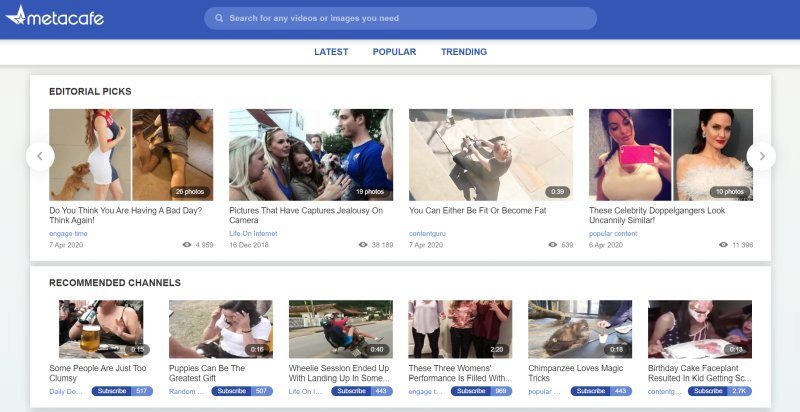 Metacafe is another USA-based video sharing site like You Tube. The platform is great for short videos, and you can actually categorize your videos under popular topics. Metacafe is also a YouTube like sites for adults that has an exclusive 18+ section.

People may not know much about Metacafe, but it's a great alternate YouTube site to host your videos. Let's check out a few cool facts about the site-

● Metacafe has over 2 million users registered
● It attracts over 120 million guest viewers every month
● 27 million users come to Metacafe every month
● More than 450,000,000 videos are uploaded every month

Metacafe also allows you to earn money off your videos like YouTube. The Producer Reward Program gets you $5 for every 1,000 visits. However, you need to have 20,000 views to take advantage of the program.

Maybe you should start uploading your videos to You Tube alternatives like Metacafe to grow your audience.
3. Dailymotion: Another Site Like YouTube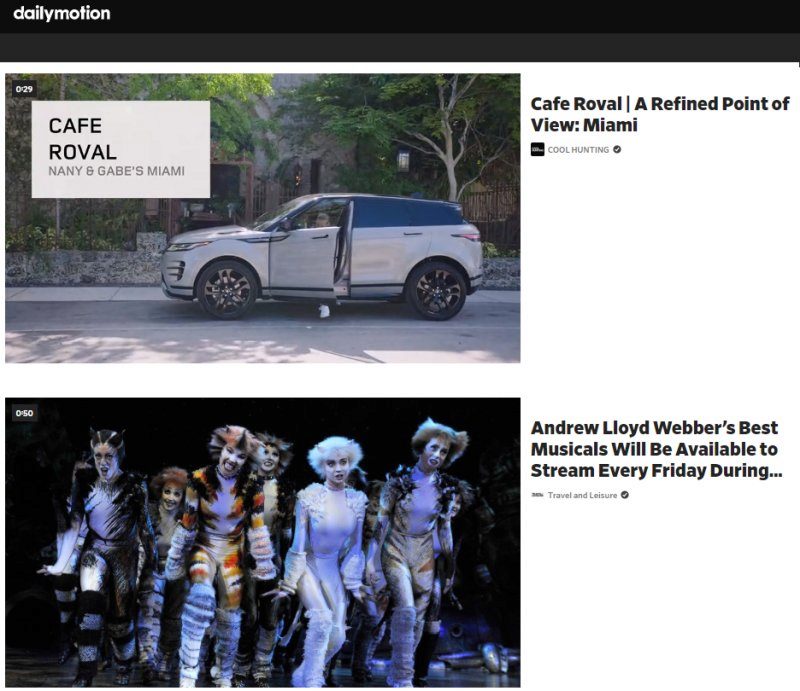 Dailymotion is another alternative for YouTube. The French video hosting platform has earned a name among video creators and roped in VICE, BBC, and Bloomberg for its launch.

The site is still one of the best ways to grow your audience base as the competition is low. You can also take advantage of trending videos, categories, and other options to promote your videos.

Hosting your videos on Dailymotion can be beneficial for a number of reasons-
Quality Over Quantity
Dailymotion doesn't downgrade or compress your videos before hosting. You can deliver the quality you shot in and woo viewers with high-definition videos.
Fewer Copyright Issues
The platform has flexible copyright policies that are not as strict as YouTube. You may be able to upload videos that YouTube might have flagged off due to copyright issues.
Content Flexibility
You can set the age for your videos and host videos that might not be possible on YouTube.
4. 9GAG: Video Sharing Sites Like YouTube
9GAG is famous as a platform for user-generated content. You will find unlimited-

● Gifs
● memes
● photos
● Videos

9GAG is home to all the fun stuff shared by users from all around the world. It's a great alternative for YouTube video-sharing website if you want to target a young demographics.

Creators can also put their videos in apt categories to attract relevant traffic. You can also share and embed 9GAG videos on your website or blog.

9GAG is great for fun and short videos. However, you might want to use other video sharing sites like YouTube for longer videos.
5. Facebook: Social Media Platforms like YouTube
Can Facebook be a YouTube alternate?

Facebook is the largest social media platform, with more than 2.5-billion monthly active users. Hosting your videos on YouTube can fetch you a large audience from different parts of the world. You can share videos on Facebook in many ways-

● Upload videos to your timeline
● Share videos from your brand or company page
● Upload videos in Facebook groups
● Stream live video using "Facebook Live"

Users on Facebook can watch videos online like YouTube and leave comments and likes. They can also share the videos on their timelines to get you extra viewers.

However, it's not right to call Facebook the ideal conservative YouTube alternative. It's a social media platform that allows video sharing to engage and entertain your audience.
Viboom: Bonus Video Sharing Company
If you want to get more views and subscriptions, you can share your videos on Viboom. You can promote any type of YouTube video and get real people to watch your content. Viboom shares the videos on its network websites where people watch your videos and may subscribe to your channel.

You can even choose to show videos on your website and earn a few extra bucks. Viboom is one of the best platforms to make your videos go viral and get hundreds and thousands of viewers quickly.