Blogs are a great place to kick start your career as a musician. A good article on a popular blog is a surefire way to land multiple gigs. It's great exposure for your music or your band's music. No one understands the struggle better than musicians. Their life is a constant fight to get their song at the top.
And let's be honest, no one tops the charts overnight, especially without any connections. To do so you'll need to start somewhere. The best idea would be to contact renowned music video blogs or hip hop blogs to publish a post about your music.
To get started simply submit music to hip hop blogs and sit tight until they revert. These blogs are always on the hunt for any new talent. With good music and lady luck on your side, you may get featured on their website. So whenever you're ready, we have enlisted the top hip hop blogs in town to submit hip hop music.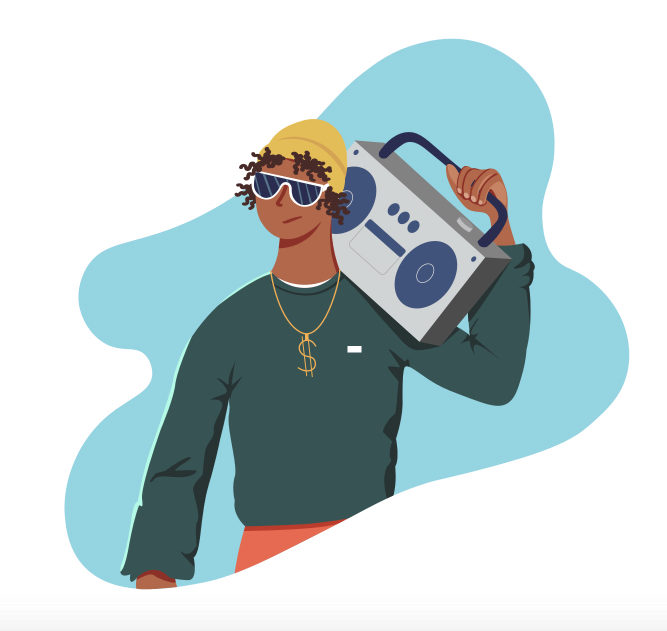 The Popularity of Rap Blogs
Hip Hop and Rap blogs are rising thanks to the sudden love the genres are receiving from the audience. Besides this, there is one more aspect to which Hip Hop music blogs owe their popularity—technology.
Most of the internet is filled with different types of blog posts. Hip hop blog, tech blog, art blog, or lifestyle blog, you name the genre and there's probably a blog post waiting to be seen. In today's tech-savvy world, hip hop artists and fans are using the internet to their advantage. Fans keep themselves updated with the latest hip hop news and songs with the help of such hip hop music blogposts.
Get the Attention of Hip Hop Blogs and Rap Blogs
With so many amazing rap and hip hop artists it is not easy to grab the attention of bloggers. Your music may be good but you must know how to woo bloggers to promote yourself. To do so, you need to follow certain steps.
Check the website

Find out the process for hip hop music submissions

Prepare a pitching email (if necessary)
With thousands of people aspiring to become successful in this field, it may be a while before you get one of the big dogs to notice your work. But don't lose hope, Rome wasn't built in a day.
5 Top Hip Hop Blogs
Hip hop websites are easy to come across but finding a hip hop music blog that helps you stand out is very difficult. Let's see some of the best hip hop sites to get you started.
Quick Preview
Underground Hip Hop Blog
HipHop-N-More
Upcoming Hip Hop
2DOPEBOYZ
Sphere of Hip Hop
1. Underground Hip Hop Blog
As you can guess, this Hip-hop blog focuses on more underground artists and bands. It is one of the biggest hip hop blogs that covers mainstream and experimental hip hop. There are more underground Hip hop blogs but this website is backed up by loyal readers and its impressive social media presence.
2. HipHop-N-More
If there's any blog you'll find the hottest and freshest hip hop news, videos, and interviews combined it is the HipHop-N-More blog. It has also released a weekly series, Saturday Spotlight, to highlight their upcoming artists. The series contains sneak peeks from the exceptional videos submitted to their website.
3. Upcoming Hip Hop
Upcoming Hip Hop believes that every artist deserves to be heard. It focuses on individual musicians and producers along with detailed interviews that allow you to tell your story to the world. It is one of the few hip hop music submission sites that also posts premieres, reviews and advice pieces.
4. 2DOPEBOYZ
Started by "two dope boys" Meka Udoh and Joel Shake Zela this blog was a nominee in the Best Hip Hop Online Site category at the 2012 BET Hip Hop Awards.
5. Sphere of Hip Hop
Sphere of Hip Hop is a distinctive hip hop blog with very specific submission guidelines. They aim to introduce new music based on variety and style that their audience will love.
Hip Hop Blogs Submissions Details
Hip hop blogs follow a certain format to streamline their submission videos. Be sure to read all the details mentioned in their guidelines before sending in your work. This table contains links to the submission and guideline pages of the blogs we have discussed above.
Underground Hip Hop Blog
UGHHBLOG@GMAIL.COM
http://undergroundhiphopblog.com/contact/

HipHop-N-More
JayHolzsubmissions@gmail.com
http://hiphop-n-more.com/submissions/

Upcoming Hip Hop
http://upcominghiphop.net/submit/
http://upcominghiphop.net/submit/

2DOPEBOYZ
2dbz.music@gmail.com
http://2dopeboyz.com/contact-us/

Sphere of Hip Hop
sphereofhiphop1997@gmail.com
http://www.sphereofhiphop.com/rap/other/music-news-video-submissions/

Promote Your Music the Easy Way
Now that you have your own music, why not let the world know? While you can always submit your content to other sites, you need an easier way out for making your music popular ar first. And that comes with advertising YouTube channel.
Viboom helps you promote your YouTube videos easily. All the views are real, and you get to choose the number of views and the demographics of the viewers. The white hat method means you don't run afoul of Google's work, and get the best price you can expect from real, quality views. It's not that difficult to get natural organic views and increase the video virality.