People use a plethora of tricks and techniques to get more views and likes on their videos on YouTube. One of the coolest tricks to make your video popular is by using good YouTube thumbnails. That's right! You can optimize the various aspects of your video thumbnail (You Tube video image) to make your video more appealing. The best thumbnails on YouTube stand out from the rest of the videos and attract more viewers.
Today, we will teach you the basics of YouTube thumbnail and how to optimize them for best results. We will also take a look at a few thumbnail example images and best practices to help you create the best thumbnails.

In this post, you will learn-

● YouTube thumbnail requirements
● YouTube video thumbnail dimensions
● How to set up a thumbnail
● YouTube thumbnail best practices
YouTube Thumbnail Requirements
You need to follow a few requirements to create the best possible thumbnails. These requirements include YouTube thumbnail dimension, size of thumbnail, and similar considerations. Before we get into details, here's what a YouTube thumbnail looks like:

As you can see, a video thumbnail is made up of many elements. It has a images as thumbnail PNG or JPG, and optional elements like text or graphics.

Now that you have an idea about how a thumbnail looks, let's move ahead!
YouTube Thumbnail Size: Best Dimensions for YouTube Video Thumbnails
What is the size for a YouTube thumbnail? What is the resolution for YouTube thumbnails?

YouTubers have many questions when it comes to creating the best thumbnails, like the above ones. Luckily, Google has answered all the questions and revealed how big should a YouTube thumbnail be, YouTube custom thumbnail dimensions, and thumbnail size pixels.

Here are the best dimensions for YouTube video thumbnails, according to Google-
Resolution for YouTube thumbnail - 1280 x 720
Minimum Width - 640 pixels
Best YouTube Thumbnail Aspect Ratio - 16:9
Maximum Video Thumbnail Size - 2 MB
YouTube Thumbnail Images Format - PNG, JPG, or GIF
Now you know what size for YouTube thumbnail you should use. Next, let's see how to set up a thumbnail.
How to Add Custom YouTube Thumbnail Images
YouTube automatically gives you thumbnail options by choosing random stills from your video. The thumbnail options appear right after you upload a video-

In the picture above, you can see the three possible thumbnail options created from video stills. If you want, you can just choose one of them and be done with your thumbnail.

But that's not always the best strategy. A random still may not capture the best frames of your video or even choose a blur still that makes your video look bad. In such cases, you can add your custom thumbnail video image.
Add Your Custom Thumbnail Image
You can choose any image as a thumbnail for your YouTube videos. When YouTube gives you the thumbnail options, you will see a box that says "custom thumbnail." You can click this box, choose an image, and upload as your video thumbnail.

Of course, you should maintain the recommendations for image size for YouTube video thumbnail and other dimensions. You can use ay image editing software or online tools to create your video thumbnail.
Best Ideas for YouTube Thumbnail Images
YouTube screen dimensions for thumbnails are not the only thing you should consider. Your YouTube video thumbnail acts just like the headline of a blog post to attract viewers. So, it's imperative you make an effort to create the best thumbnails to win more views and likes.

In short, your video thumbnail should represent your video in the best way and also appeal to viewers.

Here are some ideas you can try:
Best Frame from Your Video
A frame or still from your video may be best to attract viewers. But unfortunately, YouTube will not choose the best frame all the time. You can always end up with blurry or uninteresting frames.

To choose your own frame-

● Play your video on any player
● Pause the video when you find an interesting frame
● Take a screenshot of the frame
● Save the image
● Crop and upload the image as your video thumbnail
Faces of Characters
If you are featuring in the video, you can capture a still of your face and use it as a thumbnail. If you have more people in the video, you can also use their faces. It helps you connect with your audience on a human level. Try to capture a still with clear image of your eyes, emotions and excitement for most effect!
Thumbnails with Graphics
Companies and brands sometimes use their logo and other branding elements on video thumbnails. This makes their videos highly recognizable and familiar to viewers. You can also add your own graphics, small emoticons, or anything creative to make your video thumbnail unique.
Thumbnails with Text
You can also use a portion of your video title on the thumbnail. Let's say the title of your video is "10 best moments of Lionel Messi in 2019." Now, you can take the portion " best moments of Lionel Messi" and use it on your video thumbnail.

You can also use company name, or anything that resonates with the video and appeals to your audience.
Be Consistent With Your Themes
Whether you use images, texts, or graphics, it's important to be consistent. You can build brand awareness and be recognizable to your viewers by using a same theme, design, or color elements. Think of it like the branding of your company- you use the same color schemes, fonts, and style in your website, brochures, and visiting cards.

Here's an example of good what we mean-

The thumbnails by Video Creators use appealing elements like graphics, texts, and interesting frames from the video. They have also maintained a consistency in their theme that makes them stand out and create brand awareness.

Here are a few more ideas you can try for your YouTube thumbnails from the infographic below: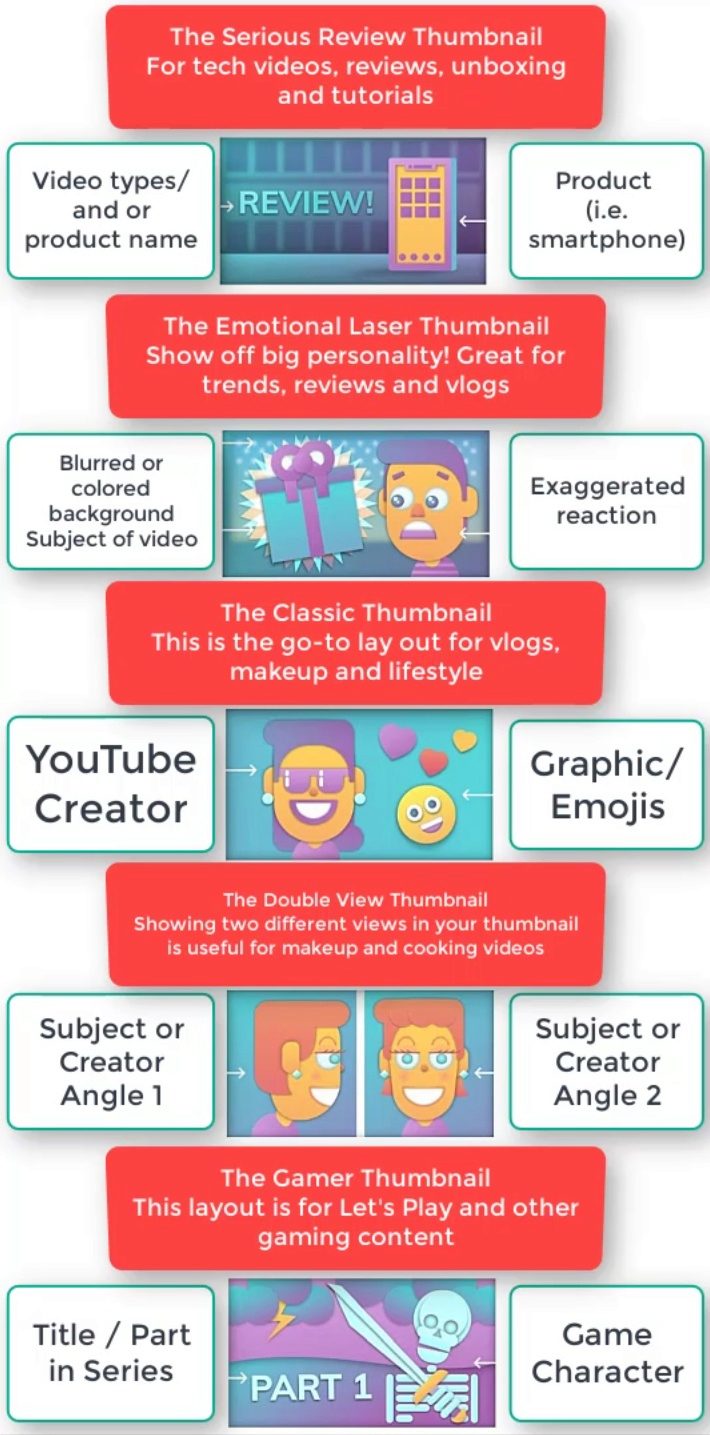 Next, we will move on to the best practices regarding YouTube thumbnails.
Best Practices for Creating the Most Appealing YouTube Thumbnails
You can follow the best practices described below to create the best thumbnails for your videos. We will start with a simple trick to get more views.
Take Advantage of White Space
Websites and apps intentionally keep white spaces in their interface to make it look clean and organized. White spaces can also make a text or image stand out for a higher impact.

You can use this trick for your video thumbnails. You can use a gray or white background for YouTube thumbnails and make them more appealing.
Play with Colors
Adjusting and tweaking the color of your thumbnail images can make a big difference. You can use bright colors to attract viewers or play with contrast and saturation to make thumbnails more appealing. Using colors to your advantage naturally catches attention and encourage people to click on your videos.

Here's an example of how bright colors can change the whole appeal of a thumbnail. Look at the thumbnails promoting the same content by Netflix. See how they have used bright colors to draw the gaze of viewers-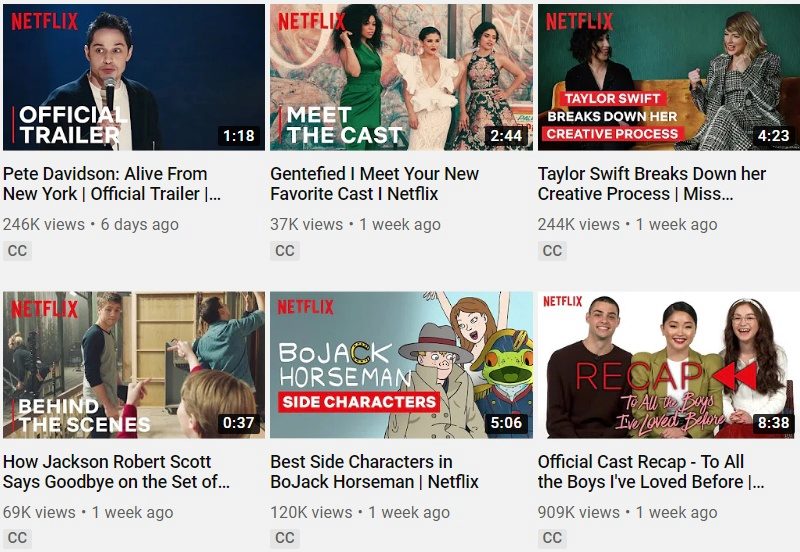 Keep It Relevant
No matter what, don't deviate from the topic or theme of your video while creating thumbnails. Viewers on YouTube don't like misleading video titles and thumbnails. If you use such dishonest tricks, your video may end up getting a lot of dislikes.

The best thing is to give your viewers a hint of what the video is about. Create something that generates curiosity and make viewers interested in clicking your video.
Be Concise
Your YouTube preview thumbnail is the USP of your video. To make it most effective, keep it concise. That means the texts or parts of video title you use should be short and to the point. Don't write long sentences or include things that will not make an impact.
Make Texts Readable
Viewers should be able to read the text or make out the graphics that you use in your thumbnails. So, it's imperative to use big enough fonts that people will be able to read.

One thing to keep in mind is, the image and text both will be scaled down in a thumbnail preview. So always make sure the text is legible even if the thumbnail appears on a mobile screen.

You can use an image editor to reduce the size of your thumbnail and see if the text is of suitable size.
Here's an example of how using fonts that are too small can ruin your thumbnail-

Can you see how small the texts appear on the thumbnails? They will also become smaller on a smartphone. So, use appropriate font sizes that people can read even on small screens.
Research Competitors
If you have a special niche for your videos or channel, you can check out how your competitors are making their thumbnails. Search your niche on YouTube and take a look at the top videos with highest views. Take a note of the elements they use on their thumbnails. Check if they are using video stills or custom images, note the color schemes, texts, graphics- you get the hang!

Then you can try out the strategies on your thumbnails and see if they are making a difference.
Test Your Thumbnails
You have endless options to optimize your thumbnail for more views. Some of them will work with your audience, while others may not. That's why it's important to test your thumbnails to find out the most effective ones.

Let's say you create a thumbnail and see it's not getting enough views. You can then say, use a text or some graphics and test the new thumbnail. If it's getting more views, you know the trick has worked!

You can further tweak the image, colors, fonts, and more to see which thumbnails resonate the most with your viewers.

That's it with the best practices. You can also try other creative and innovative techniques to create appealing thumbnails.
Wrapping Up
YouTube video thumbnails is the first thing viewers see about your video. You should always try to create the best thumbnails for attracting more viewers. This also means following the Google-recommended Thumbnail dimensions we discussed above.

If you don't get the expected views even after using best thumbnails, it's time to promote your YouTube videos. You can take the help of Viboom to make your videos and channel more popular. By promoting your video on the Viboom network, you can get real views, likes, and ultimately, more subscriptions. Try out Viboom today and promote your videos like a pro!